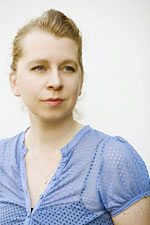 Born in Switzerland (*1968), I gained my skills in ladies tailoring at the Haute
Couture Atelier of the BFF-School in Berne in 1988. After some years of
experimenting and exploring other fields of design, I returned to my studies of
Fashion at the University of Art & Design in Basel, followed by a traineeship
in the London studio of Vivienne Westwood (1997/98). Subsequently, I made
my degree in 1999 and have since then been focused on the design and production
of 'prêt-à-porter' ladies wear. My labour as an independent designer was twice
awarded with the 'Swiss Federal Design Competition Award' (1999 / 2oo2)
and the 'Design Award Berne' (2oo3 / 2oo8).